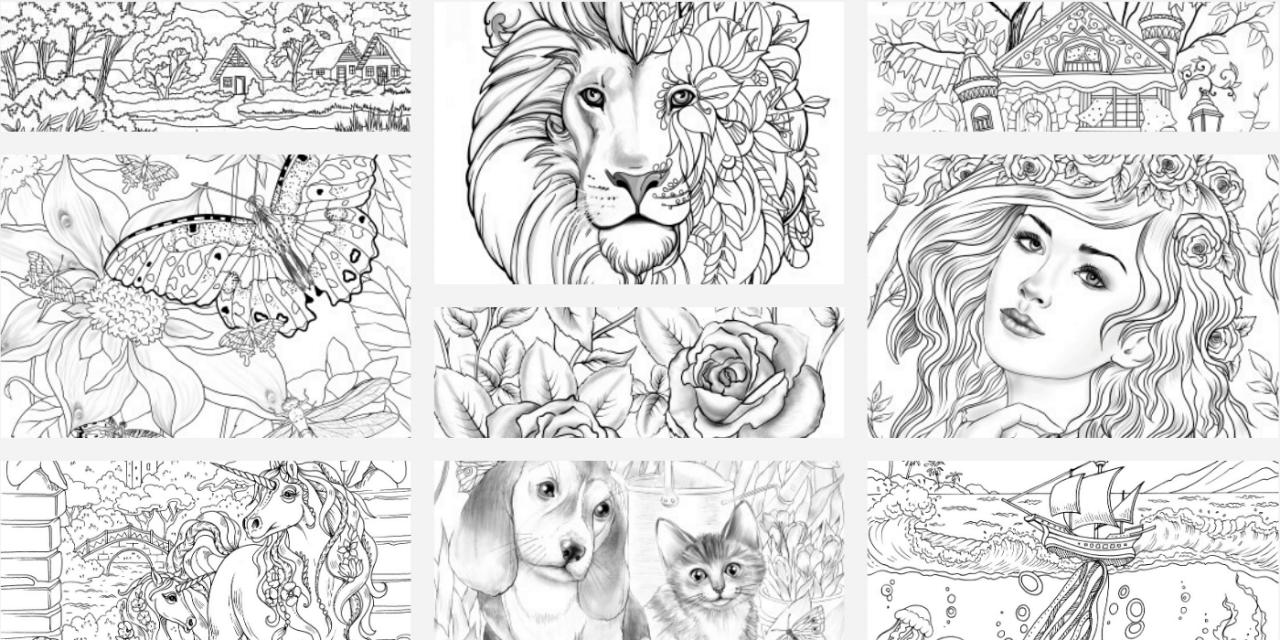 Looking for a new coloring page to release stress or express your creative side?  Make sure you don't miss these coloring sheets for adults. Here we've gathered a collection of our most popular designs on different topics and of different complexity to satisfy any coloring craving!
These are our fans' favorites, and if you haven't tried them yet, we are sure you'll find something to your liking. Check out these designs and tell us in comments which one you like and want to color next. Don't forget to submit your finished artwork and get support from our community.
If you enjoyed this collection of our best coloring pages, let us know in comments and we will be back with more picks for you!
Whale
This adult coloring sheet features a whale. Whales are the heaviest animal living on earth. No wonder they look so grand and powerful! Use your imagination to color this gorgeous sea creature and the ship. They met in the middle of the sea and only you can decide what happens next. If you like adventure, traveling around the world, and underwater scenes, you'll have so much fun with this printable sheet for adults.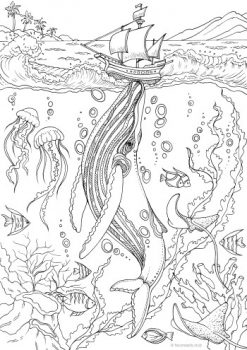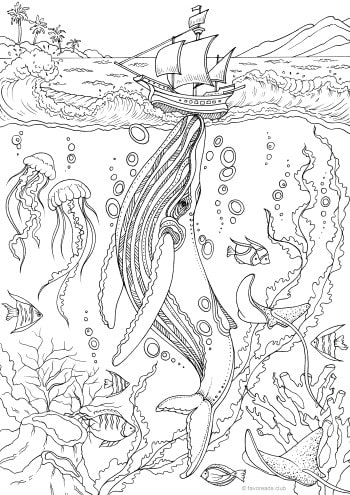 Roses
Roses coloring page is a great way to brighten up your day! If you like coloring flowers, you'll find this one so inspiring! It has grayscale elements that help work with the shading and bring more depth to your coloring. Take your skills to the next level with this flower printable sheet and turn it into a real piece of art! And remember that roses are not always red, you can use any color you want, don't limit yourself and your creativity.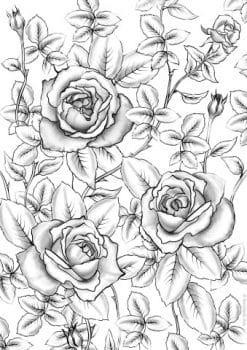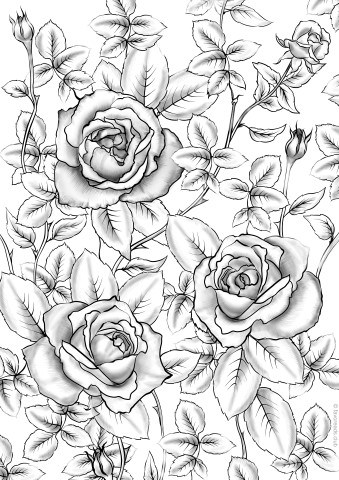 Nymph
Do you like coloring nymphs and fairies? Even if you are not a fantasy lover but still like coloring women, you'll truly enjoy this printable design for adults. It's a work of art, not your regular coloring page. Our artist outdid herself with this picture. Check out all the little details like flowers, face, hair and her eyes are almost real. We are so proud of our grayscale fantasy pages and we know you love them too!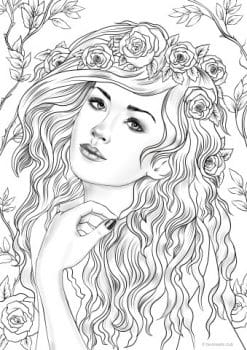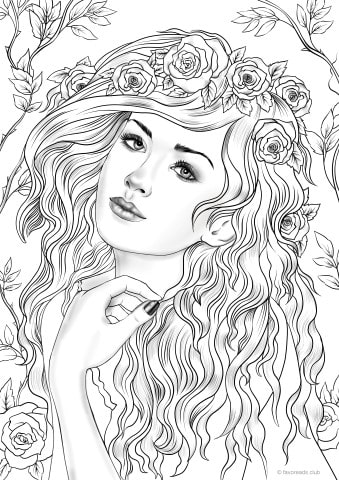 Kitty and Dog
This coloring page is a gift for both cat and dog lovers. If you can't pick a team, you don't have to! Enjoy both cute animals in this picture! And the country nature background is beautiful too! Color the leaves and butterflies and make this design pop. The grayscale parts will help you with the accents and shades. So are you ready to bring this animal coloring sheet for adults to life?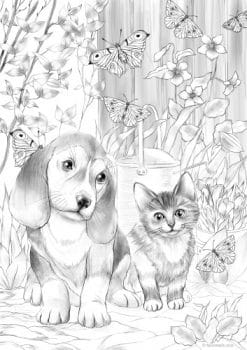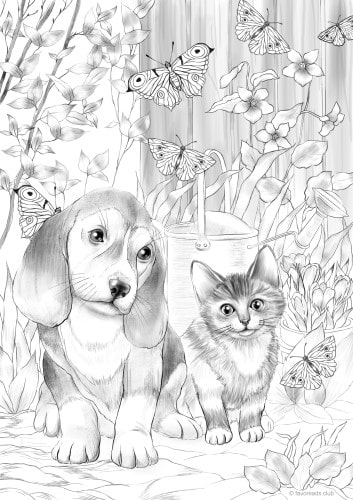 Lake View
Welcome to the world on nature coloring pages! This one is a perfect fit for those who love lakes, boats, woods, trees, and village views. You can now travel to a quiet place in the countryside without leaving the comfort of your own home. Just take your coloring tools and enjoy the journey. Nature is calling! Play with the styles and techniques to make this printable sheet look lifelike.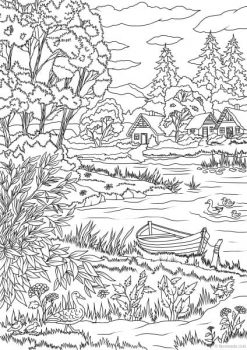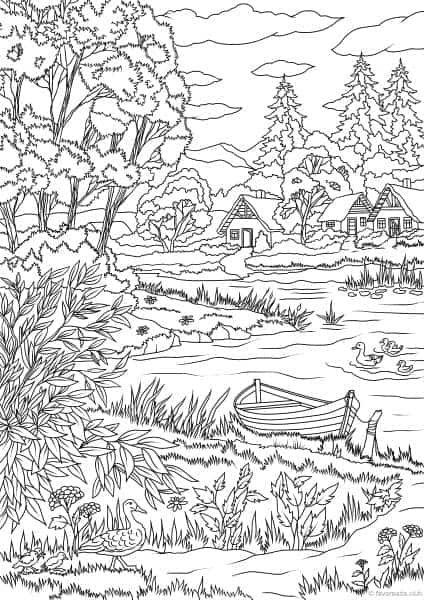 Keyhole
This keyhole coloring page is a glimpse into the world of fantasy. The details here are mind-blowing – the leaves, the castle and the tree texture are superb! Don't hesitate to start your fantasy journey with this coloring design. The land of princesses and fairies and other magical creatures is waiting for you. Even if you are not a fan of fairy tales, you'll appreciate the possibilities this coloring sheet offers.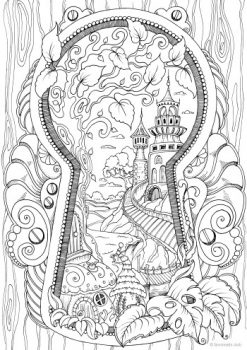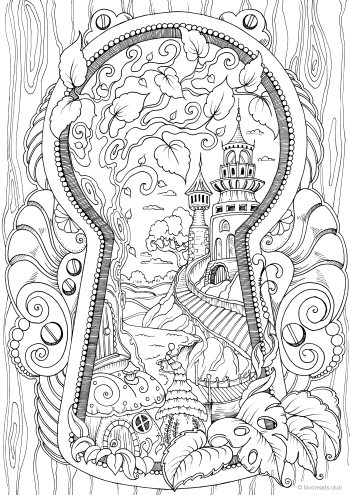 Pretty Butterflies
Check out this new butterfly coloring page. These creatures are truly gorgeous. Look at all the details and enjoy this peaceful scene. Love flowers? We've got them too! What a stunning combination of natural elements – flowers and butterflies! They go perfectly together and will be a great addition to your coloring collection. Start working on this sweet romantic nature design right now!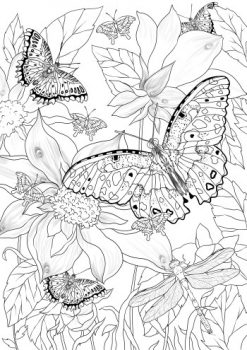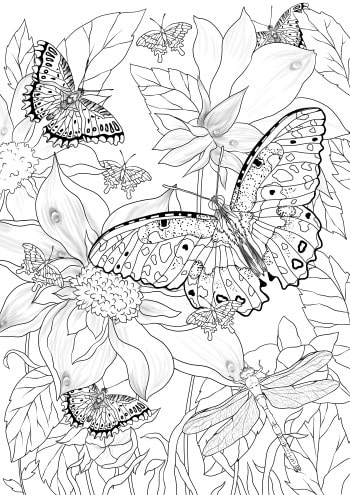 Unicorns
Who doesn't love coloring unicorns? These fantasy creatures are so full of life and magic! You can freely experiment with colors and techniques in this printable sheet. It's perfect for horse lovers, fairy tales, and fantasy coloring fans too. Don't forget to work on nature and flowers! They will add more beauty to the scene.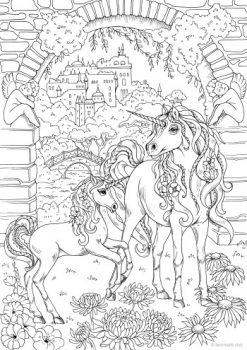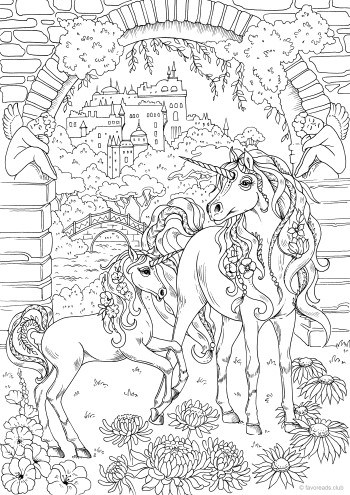 Dream House
This coloring page features a dream house! If you enjoy the Victorian era or house designs, you'll appreciate this one a lot! It's so inspiring to see this beautiful architecture coloring sheet. Make this place more personal, and if it reminds you of good old times, bring them back with colors. Add a splash of green for the surrounding nature!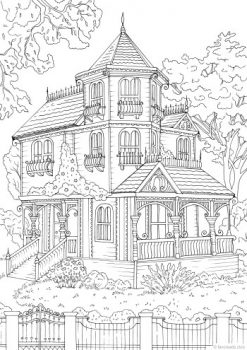 Tree
Check out this Celtic adult coloring page with a tree. It's not an ordinary tree but a very special one. It has lots of details and different elements including mandala parts and doodles. So if you prefer coloring a more complex fantasy design, this one is definitely for you. Let this pattern ignite your imagination and provide you with hours of fun and joyful coloring experience.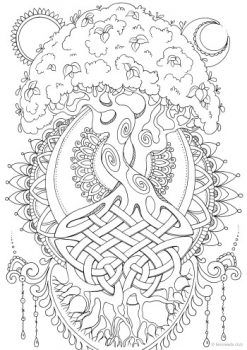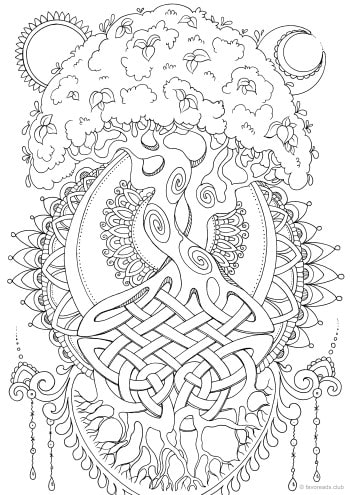 Moon
Stunning complex coloring design featuring a moon. It looks like a moon in a fantasy world, doesn't it? Here you can find flowers, feathers, and even mandala elements! Lots of intricate parts to stir your imagination! Are you ready to rise up for the challenge? This printable sheet is not as difficult to color as you might think. In the end, you are the boss!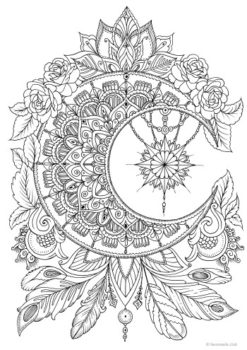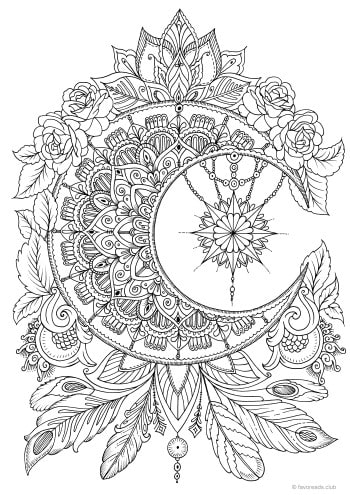 House in a Jar
What a marvelous fantasy coloring page! Just check out how many different elements and details are gathered here! You can find flowers, a stump, sky and even a house in a jar. What a lovely scene! It offers so many fantastic opportunities for colorists who love nature, fairy tales, and other whimsical designs.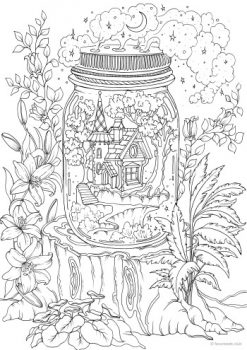 Fantasy Lion
This is one of our most favored coloring pages. This lion is truly magnificent and we are so proud of it. The grayscale tones accentuate the depth of this art and the flowers on one part of his face add some mystery. This lion came from the fantasyland and now can't wait to get colored by you. We are sure you'll love this picture just as much as we do.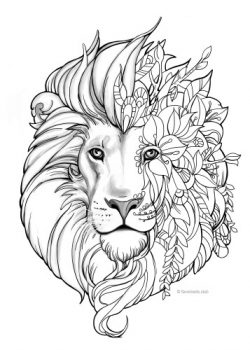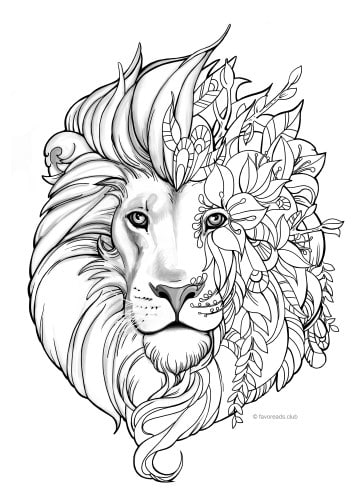 Treehouse
Such a nice treehouse coloring page for kids and adults! Did you have a treehouse in your childhood? If so, it will bring back good memories for you and your family. If no, it's never too late to have this experience. Plus it's not an ordinary house but with a magic twist. Looks like some creature is living inside. Maybe you can tell your own coloring story about this place. And don't forget about the beautiful flowers and butterflies around it!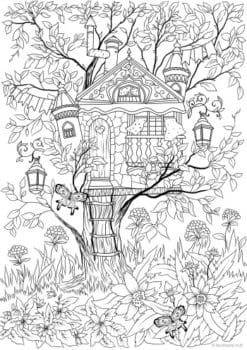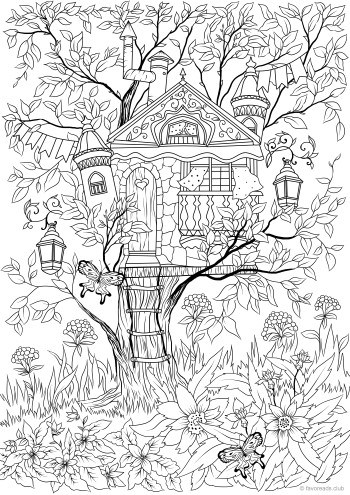 Let us know which one is your favorite in the comments below! If you have colored any of these sheets, don't forget to submit your arts and share them with the community!