Lamp
Facebook

Pinterest

Copy Link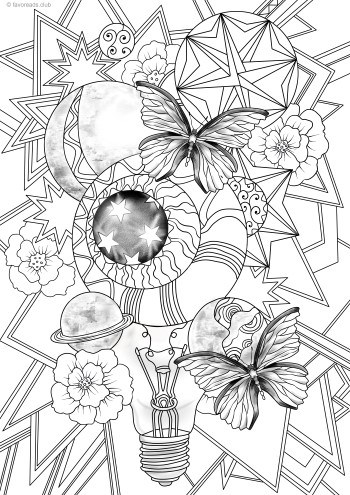 Copyright © Favoreads. All rights reserved.
Description
What an interesting new coloring page! It features lots of peculiar forms, geometric designs, and sweet tender butterflies. It's perfect for those who want to challenge themselves and try something new. Have you ever wanted to take you coloring to the next level? Then this printable sheet is great for you! You'll have a lot of fun with these forms, objects, and planets. Here you'll see stars and galaxy elements to inspire you to reach for more. Are you ready to travel to the fantasy world?
Contribute to the coloring community!
Once published, your artwork will appear on your profile page and will be featured on our website to help and inspire other colorists.
Download
Download this design and turn it into a coloring masterpiece.
Printed version
Get our designs printed on artist quality paper.