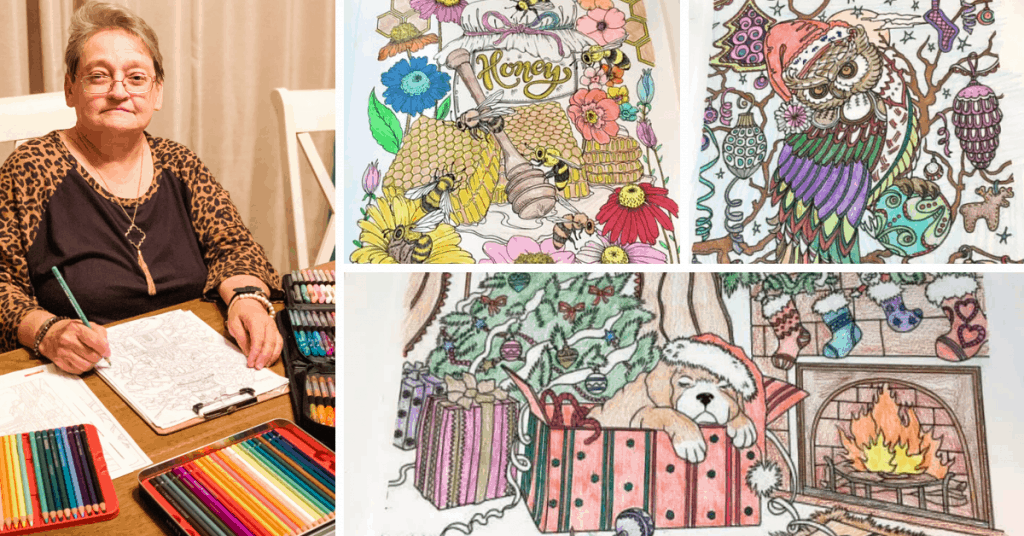 Dear colorists, today's Artist Spotlight features our talented fan Connie Pettey. She is an incredible artist and we love receiving her artworks. She has colored lots of our designs and we are extremely happy and proud to have such a devoted fan in our community.
Read this interview and support Connie by leaving your COMMENTS under THIS POST and by SHARING her amazing story on Social Media.
1. When and why did you start coloring?
I started coloring almost two years ago. I started coloring because it seemed to help relieve stress. My grandmother colored with me when I was a little girl, so I would say she taught me a lot. I enjoyed spending the time with her. I have no artistic background, I just started coloring and people would comment how well I did which encouraged me to color more.
2. What are your favorite designs to color?
I enjoy coloring any designs.
3. What are your favorite coloring tools?
I enjoy colored pencils and gel pens the best.
4. What is your perfect coloring atmosphere?
In my home at my desk.
5. How do you choose colors for your artworks and where do you find inspiration?
I typically use a color chart. I get a lot of inspiration from Pinterest. I love looking at what others have colored as well.
6. What would be your advice to beginner colorists?
Take your time and just enjoy it. You'll get better with time. I like to try using different colors that I normally wouldn't think to use, but it ends up turning out well. Be open to mixing colors, using colored pencils, markers, gel pens and water colors or even a combination of any of those, until you find what you are looking for in your colors.
7. Why do you think more people should try coloring? And how did it help you personally?
I think people could benefit from coloring to relax themselves and relieve stress. Late last year I suffered a stroke. During physical therapy I told the nurse I liked to color. She told me that would be great therapy for regaining strength in my hands. Once I got home from the hospital I started coloring again, it has helped me so much since my stroke.
8. How did you learn about Favoreads coloring club?
I found Favoreads on Pinterest.
9. Why do you like coloring pages from Favoreads?
They are different and there is a variety.
Stunning Art by Connie Pettey!
Connie's artworks are incredible. Check them out and get inspired. We are super inspired and greatful to Connie for choosing our coloring pages.
Share Your Story and Artworks
Would you like to get featured in Artist Spotlight? Fill in this short SURVEY and describe your coloring experience. The more detailed your answers are, the higher are your chances of being featured!