If you are a passionate colorist, you already know it from your own experience that coloring is a great activity helping you relax, unwind and reconnect with your inner child. Having a hard day or an emotional breakdown? Time to take out your coloring tools and fight negative emotions with creativity. But when you are done, what's there to do with the finished artworks? Will you frame it or display on the fridge? Sounds a bit dull, plus your home might be already looking like a small gallery of your kids' (grandkids') drawings. But don't worry, there's an amazingly creative way to use your finished designs. Check out this fabulous DIY project with coloring pages for adults. Have fun turning your coloring printables into these crafty homemade DIY magnets that will look awesome on your fridge or will make perfect gifts for your loved ones! So let's work our magic.
DIY Wood Magnets with a Finished Coloring Page
This craft idea actually came about when I was coloring these awesome butterfly coloring pages for adults. I thought that butterfly patterns looked pretty great and they will look even better as super cute DIY magnets on my fridge.
What we'll need:
Wood slices (These you can make yourself with a tree branch or a limb and a hand saw. Or an easier option is to purchase wood slices, say, from Amazon, which are actually very cheap)

Mod Podge Sealer, Glue, and Finish

Acrylic paints

Magnets (I used self-adhesive magnetic circles)

Scissors

Brushes

Optional: your choice of coloring tools (I colored these butterflies with pencils) and glitter powder as a finishing touch.
Step 1
Once you've prepared everything you'll need for this project, start by painting the wood slices. It will take some time for the paint to dry and meanwhile you'll be able to color your butterflies. I used acrylic paints since I really like how thick and bright they look. Do not recommend to use watercolors, as they will look much lighter, however, it's totally up to you to try and experiment until you get the desired effect.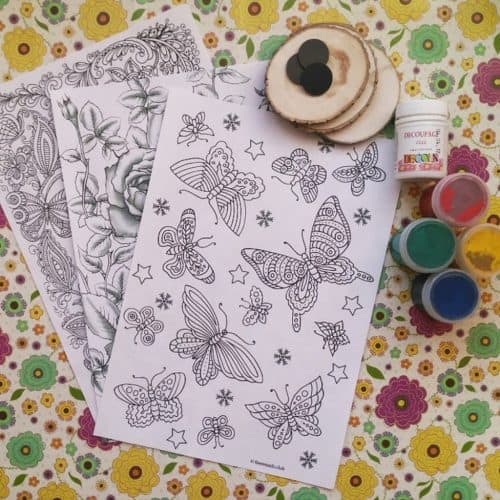 Step 2
After the paint dries, cut out your butterflies,  cover the wood slices with some Mod Podge and lay your colored pattern on them. Don't forget to smooth the paper down, use a  sponge for a better result, so there are no air bubbles. Add a thin layer of Mod Podge over the top of your pattern. Set it aside to dry.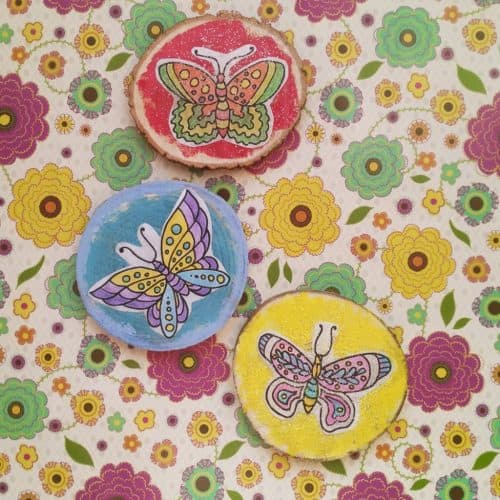 Step 3
If you want to add a little bit of bling (I happened to have extra glitter powder left from my other DIY crafts), you can sprinkle some of it on your slices while Mod Podge is still wet. When you are done, comes the last step – adding magnets, in my case – self-adhesive magnetic circles. They are very cheap and super easy to apply since they already have a sticky side and I didn't even need to use any glue at all. If you are worried they are not strong enough to hold our wood slices, that will totally depend on their weight. Mine were pretty light and the magnetic circles worked great. But you surely need to keep in mind the weight of your slices and possibly get some bigger and stronger magnets.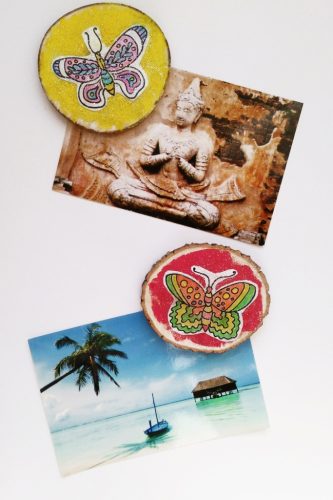 Butterfly and Flower Coloring Pages for Adults
Did you like this crafty idea? Don't forget to comment and share it with your friends and family. We would love to offer you more printable coloring sheets for inspiration, so you could use them in your next DIY project.
Whether you fancy doodles or paisley flowers, grayscale designs, inspirational sheets or country scenes, we surely have your favorite flowers in our collection of coloring pages for adults. Simply navigate to the Drawings section and explore Flowers and Butterflies tags. You can experiment with your artworks, try different styles from more detailed to easier ones. No need to limit yourself, because our coloring designs can be downloaded and printed out as many times as you want.
We've also hand-picked 10 gorgeous coloring pages for adults featuring flowers and butterflies, so you could download them as a bundle and not worry about browsing through our entire collection. Roses, fantasy scenes, positive messages – flowers and butterflies work perfectly with other inspiring themes.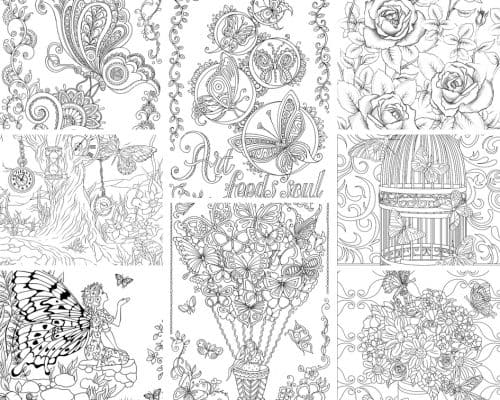 Join Favoreads and enjoy our original designs hand-drawn by the team of passionate artists. Discover your favorite topics, the variety of styles and other multiple benefits of our coloring pages for adults.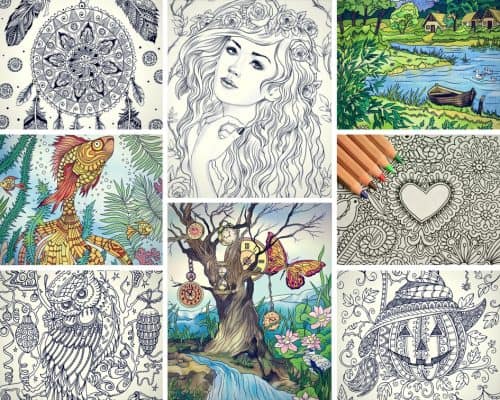 Release your inner artist with and get charged with positive vibes with inspirational adult coloring sheets from Favoreads!