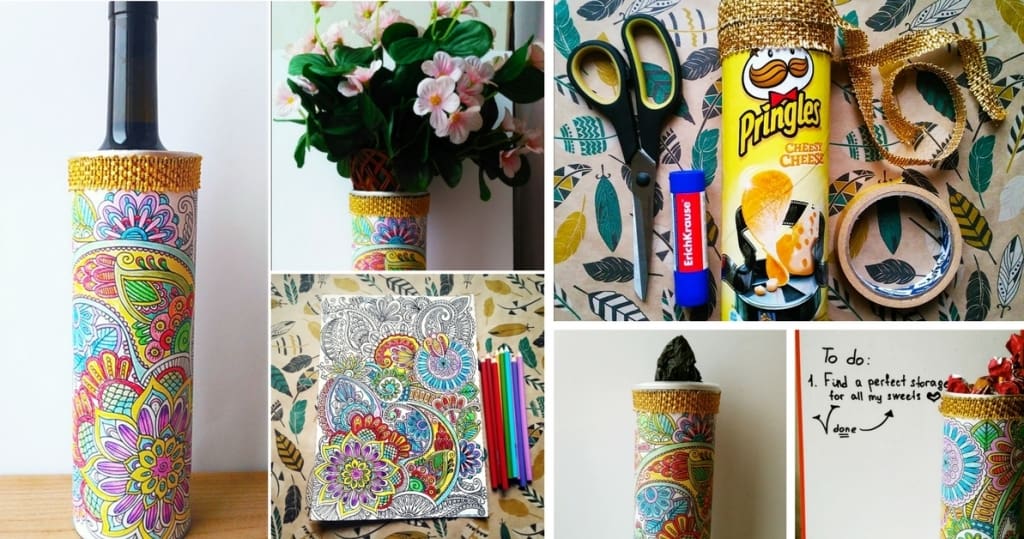 We all agree that coloring is fun. But after you are done, there's always a question – what to do with your completed coloring page? Framing is obviously a great way to put it to use and show off in front of your friends and family.  But have you ever wondered are there even more creative and fresh ideas out there? If you love coloring, chips, and money-saving hacks just like me, these DIY projects will surely make your day!
The best thing about completed coloring pages and a Pringles can is that you can actually use them in lots of different smart ways! Most of the ideas will pop into your head while you are working on the base construction, which is super cheap and easy to make. You probably already have all the supplies in your household, and if not, then you can definitely get them for next to nothing!
Supplies Needed for This DIY Project:
Pringles can
Ribbon,
Scissors
2-sided adhesive tape
Glue stick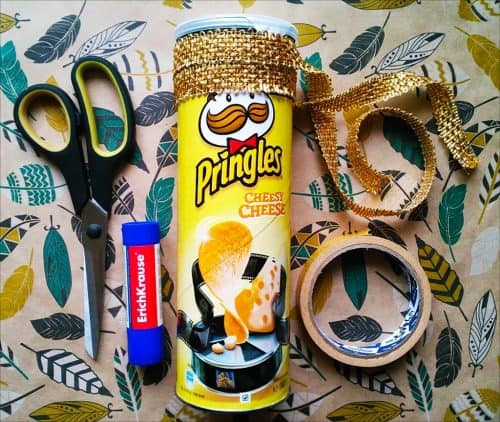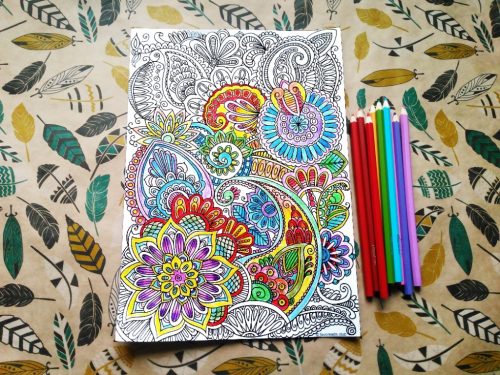 Step 1
Prepare all the materials that you'll need. When ready, cut the adhesive tape and stick it to the long side of the can. Take your completed coloring page and press one side to the adhesive tape.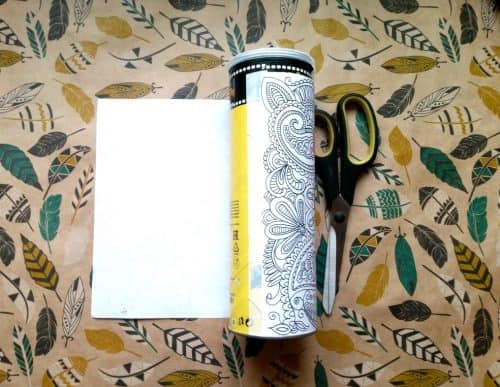 Step 2
Wrap the page around the can and secure with another stripe of the adhesive. Make sure to stick it to the backside of your coloring design so when it's secured, the adhesive tape will be completely hidden.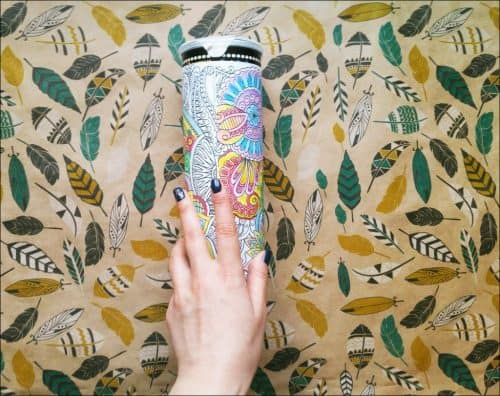 Step 3
I printed my coloring page on a standard size paper. After I wrapped it around the can, some space was left uncovered. So I decided to decorate it with a nice ribbon I had left. You can choose any ribbon you like or even cover the gap with some colored or gift paper. Just cut the needed length and stick it to the can. I used a glue stick, but it's even easier to secure it with the same 2 sided adhesive or basically any other glue.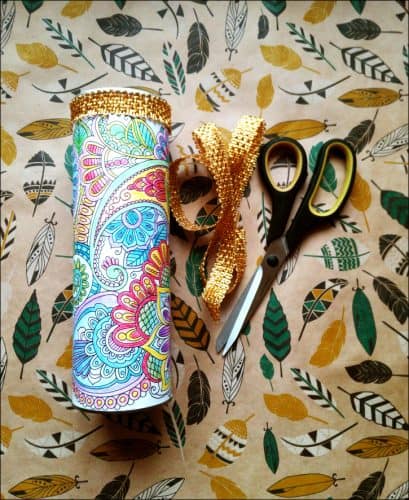 Viola! Our project is ready. What a great and easy way to upcycle an empty can and show off your completed coloring page! Plus we didn't spend any money at all, right?
Now moving on to the best part: take a look at some of the smart and cool uses for your decorated Pringles can!
DIY Upcycled Pringles Can Wine Holder
This is a great and really cool accessory for a fun party. Surprise your friends and show them what a talented colorist you are. They'll appreciate some nice wine and this little creative touch!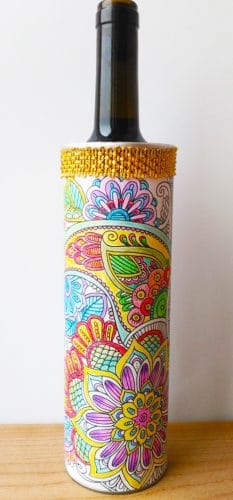 Creative DIY Candy Storage Can
I am a sweet tooth and that's why you'll find lots of candies around my entire house. With this cool storage idea, I can actually gather all my candies in one place. Besides, it's an awesome reminder of my coloring accomplishment.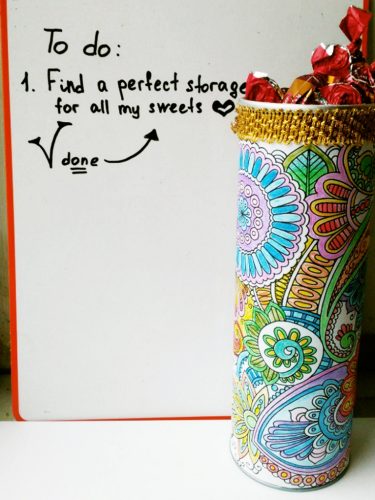 Handmade Plastic Bag Storage
Don't throw the plastic can top, just cut a round or square hole in it with a knife or scissors. After that, your Pringles can will turn into a cool plastic grocery bag holder!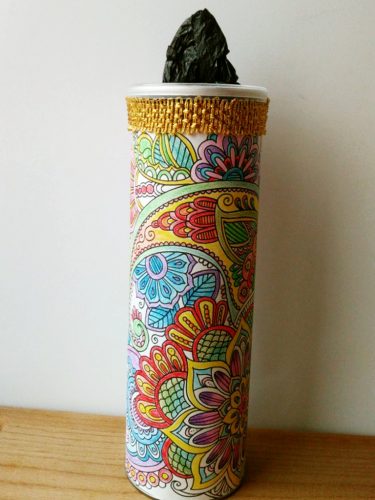 DIY Vase with a Finished Coloring Page
This is a multi-functional vase that will look great with artificial flowers and with real flowers just as well. Simply spray the inside of your can with the rubber seal coating to prevent water leaks.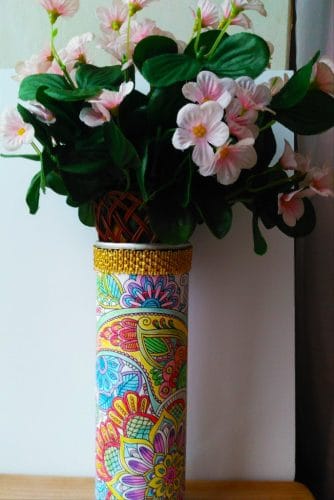 Want more ideas and fun uses? Check out this awesome compilation of DIY Hacks HERE
Find Inspiration for Your Next DIY Project
For my project above I used this doodle adult coloring page. It's perfect because it has a nice zen-tangle flower ornament that works great if you need to use it as a wrap. You can find this coloring design HERE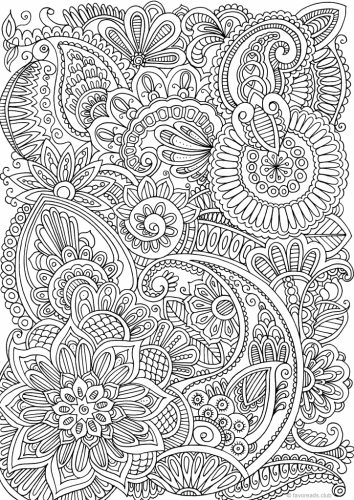 Check out this beautiful collection of complex designs and abstract coloring pages that you can easily use in your next next crafty project. Flowers, butterflies, swirls, inspirational phrases and many other designs will help you boost your creative side! Want to save money on coloring sheets? Click HERE to download this 10-page bundle for advanced coloring at 70% OFF.