At Favoreads we've got truly the best team of talented people, who create all the amazing pages we constantly share with you. But also some of them create beautiful covers for our coloring books. We receive a lot of feedback from our fans, who admire not only designs but covers as well. Some wonder how we come up with such ideas that make them stand out…
We finally decided to reveal the "Big Secret" and asked Tiffany, one of our designers who creates our covers, to answer a few frequently asked questions and also share exclusive tips on becoming a master colorist without a degree in Arts!
Turns out it's not as hard as you think it would be. Just keep reading and you'll learn the best tip for creating coloring masterpieces without racking your brains about choosing the "right" colors! Thanks to Tiffany we've got a lot to share with you today:
Tiffany, would you tell our fans a few words about yourself?
Ever since I was a child I really loved drawing and painting. At the age of 7, I started taking drawing classes and that's basically how my journey began. Then I got a degree in Fine Arts and now I teach little kids and also create coloring pages for Favoreads.
Did anyone teach you how to choose and combine colors or was it some sort of a natural sense that you've always had?
When I studied at the University, we did have a color theory and we learned how to combine colors. But I can say that in my case there was also "some sort of a natural sense". Yet, honestly, it's a combination: a bit of theory and experience mostly based on my inner senses and intuition.
Are there any general rules for combining colors?
A lot depends on the purpose of your drawing. Is it going to be realistic or decorative? Each will have its own rules. If it's realism you are aiming at, then the main thing is to stick to natural colors, usually of closer shades. The best advice would be to observe the real life and use it as a cheat sheet. If it's a decorative painting, then you can freely use contrast colors. But above everything, you need to learn about the color wheel to get the basic understanding of color theory.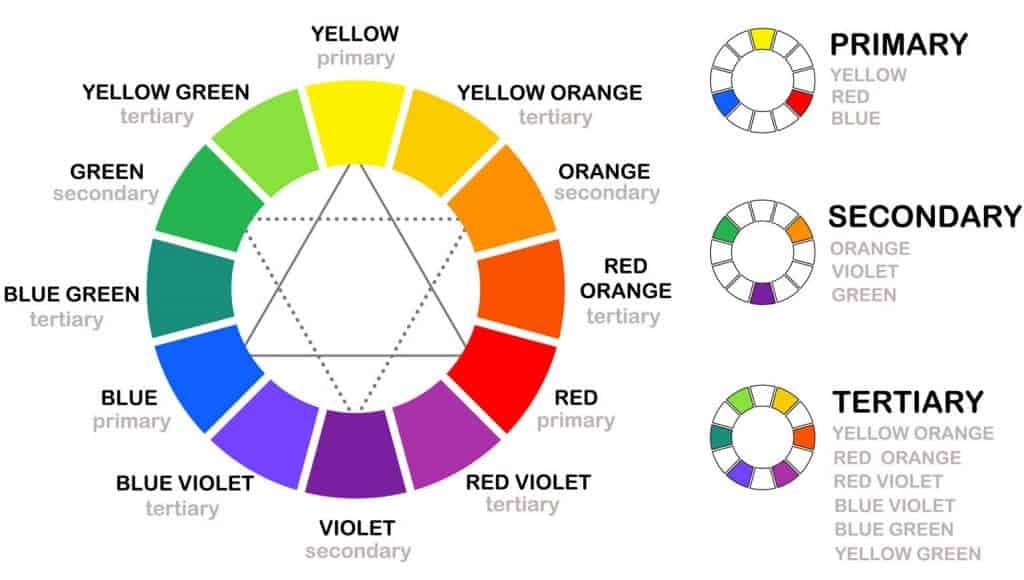 Color wheel helps to choose colors that match. I don't really want to bore you with some scientific facts and details. That's why I'll just fill you in on the basics. The color wheel consists of 6 main colors – red, orange, yellow, green, blue, violet and also some additional colors.
Three of the main colors are primary – red, yellow and blue. You can't create them by mixing any other colors. While the rest of them are just combinations of these primary colors.
Like for instance, you get orange by mixing yellow and red, green would be blue and yellow, violet is basically red and blue.
In order to choose the more appropriate color scheme, you can definitely rely on some ground rules:
– Combine colors that are opposite to each other in the wheel. Like – blue and orange, red and green.
– Draw a triangle and combine colors that are at its points. That will create some nice contrast.
– If you want a more natural, harmonious look, simply combine colors that are close to each other in the wheel.
Is there such a thing as right or wrong color combination?
I wouldn't say so. I guess it's better to speak of it in terms of more or less harmonious. But again that depends on the goal that you want to achieve with your drawing. Maybe you combine colors in an odd way on purpose, as a means of expressing yourself. There's really no right or wrong when it comes to art.
What are the most typical mistakes people make when combining colors?
It's hard to say. I think that if a person uses the color wheel, then it's quite possible to avoid like really noticeable mistakes whatsoever.
What is your personal approach to choosing colors?
Well, I mostly rely on the color wheel, that I mention a lot here. But it really works, what else can I say:)? Plus my inner senses.
Are there any colors that you absolutely can't combine?
I don't think so. As I've said, it depends on your personal style and your goal.
And what about color accents? Is there any "smart" way to do that?
The most important thing for me is to decide what would be the focus of my drawing. That would be the brightest and the most accentuated spot.
If a person doesn't have a coloring background or a special education but wants to dive right into coloring as quick as possible, what would be your tip?
They should definitely use the color wheel:) It will save them a lot of time and energy.
Is it possible to mess up the drawing by using wrong colors?
From my experience, yes, it's quite possible. If your colors don't look harmoniously matched. Or if you didn't choose the main focus of the drawing thus everything looks kind of the same.
Are there colors that can really affect your mood?
Well, there's a lot of information about it out there. I know some basic principles, but still, you should always take into account many factors, such as national or religious differences for example. Because even the neutral white in some cultures is associated with grief.
Let me give you an overview of some colors and what they represent:
– Red is associated with love, energy, bravery, excitement. But also danger and worry.
– Blue represents stability, peace, safety, love.
– Yellow – energy, curiosity, entertainment, joy, intellect, caution.
– Orange – friendliness, security, cheerfulness.
– Violet – luxury, nobility, mysteriousness, wisdom.
– Green – harmony, nature, health.
– Brown – relaxation, confidence, comfort, longevity.
– Grey – seriousness, conservatism.
– Pink – softness, romance, femininity, weakness.
– Black – elegance, sophistication, power.
– White – purity, simplicity, freshness, kindness.
We hope you enjoyed the interview with Tiffany and picked up the tips she generously shared with us today.
Don't forget to put them to good use and share your finished artworks with Favoreads community.