Please support your fellow colorist Theresa Courtney by voting up this profile (heart icon), commenting, or sharing it on social media. Let's create the most loving and supportive coloring community together!
Facebook

Pinterest

Copy Link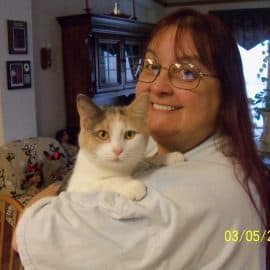 Theresa Courtney
0
Member since: Apr 3, 2020
I am a manager of a Manufactured Home Community of 203 lots. Indian Village in Shawnee township just south of Lima, OH USA. I will be 60 in July.
Mother of 5 sons, 11 grandchildren guess what ,yep mostly boys only 2 girls. sad to say they live in Southern OH.
I live here in the community. with my husband. we have 3cats, 1 dog he is my spoiled baby boy he is a Bichon Friese. He is my best, best friend he is 11 years old. In photo I am holding Lizzy. The middle aged cat. It is so nice to meet you all.
No posts found