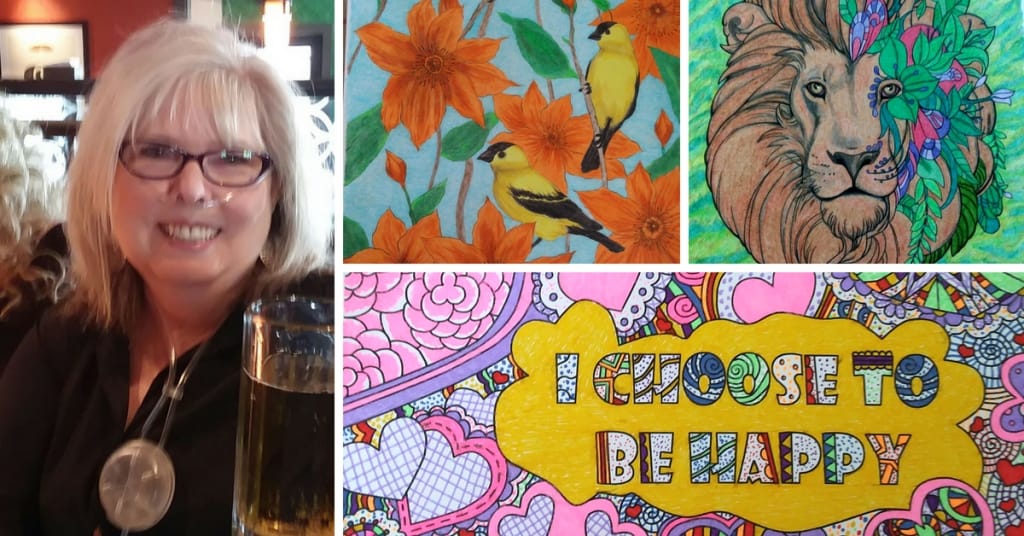 Dear colorists, today's Artist Spotlight features our talented fan Rita Streib! Her artworks are always colorful and full of life! Rita likes grayscale designs and shares her tips on grayscale coloring. She also uses her coloring time for praying and thanksgiving. We admire her attitude. It's truly incredible to hear stories from people who find something special in coloring that lifts up their spirit and improves their lives.
Read this interview and support Rita by leaving your COMMENTS under THIS POST and by SHARING her amazing story on Social Media.
1. When and why did you start coloring?
I started coloring around three years ago to help pass the time. A friend of mine got me some books to start with. I quickly fell in love with coloring.
 2. How does coloring help you now?
These days I am not able to do much so I spend the better part of my day coloring. I don't get out much due to breathing issues. I quit smoking almost 5 years ago and coloring helps to keep my hands busy. Coloring relaxes me and makes me more focused. As I color I also use that time for prayer and thanksgiving.
3. What are your favorite designs to color?
My favorite is the grayscale pictures, although I color a large variety of pictures. I have a wide range of books to color from and many pictures I have downloaded from the internet. I love coloring flowers, animals, butterflies, fashionable ladies, and the list goes on. I prefer the grayscale because I think it is teaching me how to shade and makes my coloring look much better.
4. What inspires you and how do you select colors for your next artwork?
I love, am inspired and grateful for coloring because it is one of the few things that I am able to do. I choose the picture I am going to color, then I decide which medium I will use. I usually decide on the colors as I color the picture.
 5. What is your perfect coloring atmosphere?
I have always enjoyed alone time. As I color I meditate on God's Word and spend time in prayer. I am amazed at how fast time flies! I think I have the perfect atmosphere for coloring. I sit at the kitchen table with my coloring supplies. There is a large picture window with a couple of bird houses hanging from the awning and a bird feeder a short distance away. In the spring there are colorful flowers all around, thanks to my brother-in-law. I hear the chimes and birds singing, which is very peaceful.
6. Why do you think people should try coloring? What will it add to their lives?
I find coloring to be a great stress reliever. For me, coloring is calming, peaceful and I love the beauty that transpires as I put colors on paper. The beautiful colors lift my spirits
7. What are your go-to coloring tools?
I used to say gel pens were my favorite, but recently I am using a lot more colored pencils. I am learning that I can be more creative with colored pencils, by shading and blending. I have several brands of colored pencils and have been amazed at the difference between pencils. Once in a great while I use markers but they are my least favorite to color with.
8. Can you give tips on grayscale coloring?
To date, I have colored five grayscale pictures. I usually start with the lightest sections and end with the darkest. I have also found that if I use small circular motions with pencils the finished product looks better than coloring side to side. I find the more one does something the better one gets at it.
9. What would be your advice to beginner colorists?
Don't be afraid of messing up. Usually, I am the only one that sees my mistakes until I point them out. LOL! I have found that more expensive coloring supplies do not mean better quality. I love the variety and like to try different brands. Enjoy the process of coloring and try not to be critical of your coloring skills.
10. How did you learn about Favoreads coloring club?
I discovered Favoreads coloring club through Facebook.
11. Why do you like coloring pages from Favoreads?
I was thrilled to be able to get free downloads and I loved the pictures that were being offered. Favoreads has a large variety of beautiful pictures. I love the coloring pictures I have colored. Tiffany is one of their artists and she is very talented! Favoreads offers an incredible variety of everything one can think of to color. I love the free downloads and the beautiful pictures that are offered. Your site is easy to use for those of us who are not computer savvy.
Colorful Artworks by Rita Streib!
We absolutely love Rita's art. Her submissions are always so vibrant and inspiring. Let's appreciate her talent and support her. LIKE & SHARE her colorings on FACEBOOK or give her
 on OUR WEBSITE!
Share Your Story and Artworks
Would you like to get featured in Artist Spotlight? Fill in this short SURVEY and describe your coloring experience. The more detailed your answers are, the higher are your chances of being featured!