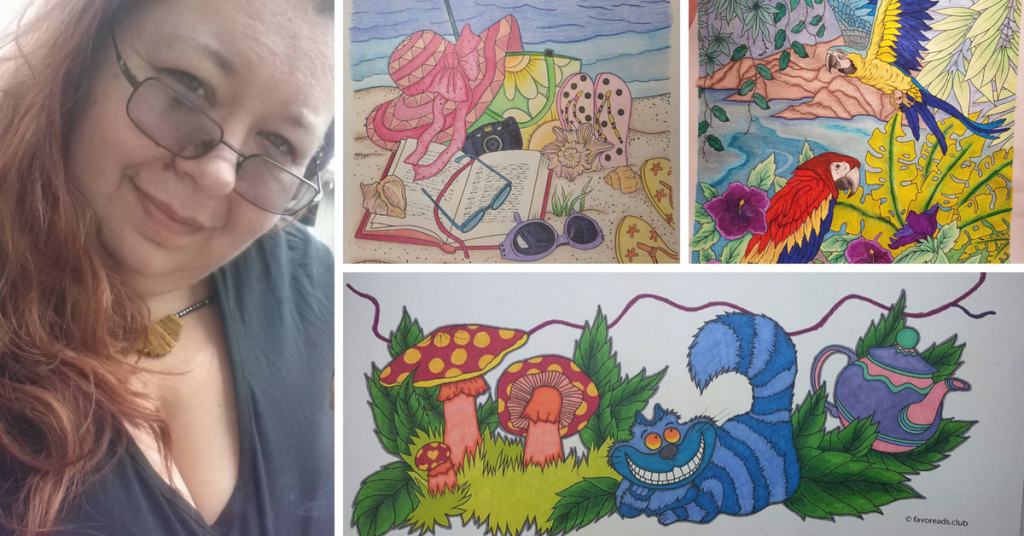 Dear colorists, today's Artist Spotlight features our valued fan Nosiara Tesla! She is a very talented and dedicated colorist. Her artworks are always fun and inspiring. Nosiara loves different coloring pages depending on her mood, but whatever she chooses turns into a marvelous artwork in the end. Coloring is more than a hobby for Nosiara, it takes her focus away from the pain and gives her a sense of accomplishment.
Read this interview and support Nosiara by leaving your COMMENTS under THIS POST and by SHARING her amazing story on Social Media.
1. When and why did you start coloring?
I have been coloring seriously for about 6 months. I've been doing arts and crafts that include coloring for years. Everything from geometric coloring books to the big fuzzy posters. I have always been drawn to art, coloring just seemed to be a natural extension of that interest. I color to keep my mind busy, to have something to focus on besides the negative things in life. And I love that feeling when I've completed a coloring page. It's that "look what I did" feeling.
 2. How does coloring help you now?
I have a host of medical problems, so coloring gives me something to focus on, which helps not dwell on the pain. It is so easy to get lost in a page, anxiety and worry melt away. Time seems to melt that way too!
3. What are your favorite designs to color?
That varies, it all depends on what I am feeling at the moment. I can't say I prefer any over others, it's all about what calls out to me.
4. What inspires you and how do you select colors for your next artwork?
What inspires me is hard to say, it all depends on what I am in the mood to do. I like to choose colors that are out of the ordinary. I gravitate towards black, blue and purple. So I have to remind myself to use other colors too.
 5. What is your perfect coloring atmosphere?
I color alone, not out of choice, but lack of people around me who want to color. Although, I have recently discovered that I am a bit possessive about my art supplies, lol maybe it's a good thing I color alone. The atmosphere is anywhere. I have a travel coloring kit. I color in the car, in the doctor's office, pretty much anywhere I will be seated and not moving for more than a couple minutes.
6. Why do you think people should try coloring? What will it add to their lives?
I think сoloring isn't just for kids. Art of any kind is an easy way to relax, set your mind at ease. I strongly suggest it to anyone who will listen.
7. What are your go-to coloring tools?
My safe zone is gel pens, I'm comfortable with Sharpie markers, and I'm learning coloring pencils. I got myself a pack of Crayola 100 pencils, and I am having a blast with them.
8. What would be your advice to beginner colorists?
There is no wrong, it's your page. Don't be afraid of doing the wrong thing, choose what makes YOU happy. Don't be afraid to walk away from a Work In Progress if you are not happy with it, it's okay to toss it and start over. I have found, that working on something I am not enjoying, just makes me more anxious. And finally, It's okay to color outside the lines! Just be you, choose the colors you want to use, do what makes you happy. I can't stress that enough. Coloring should make you happy!
9. How did you learn about Favoreads coloring club?
I believe I saw it as a suggestion on Facebook. My first impression was that I was going to need more printer ink… a lot more. I was in colorist heaven.
10. Why do you like coloring pages from Favoreads?
The material offered is a lot like me, very eclectic. I love all kinds of things, there is so much variety, no matter what I am in the mood for, I know I will find a page I want to color. I like the variety, and the pages are by different authors, so your pages don't start to all look similar or in the same style. And I like that they are always adding more content.
Stunning Artworks by Nosiara Tesla!
Nosiara's art is amazing. We love receivng her new submissions and are truly proud to have her in our community. Let's appreciate her talent and support her. LIKE & SHARE her colorings on FACEBOOK or give her
 on OUR WEBSITE!
Share Your Story and Artworks
Would you like to get featured in Artist Spotlight? Fill in this short SURVEY and describe your coloring experience. The more detailed your answers are, the higher are your chances of being featured!