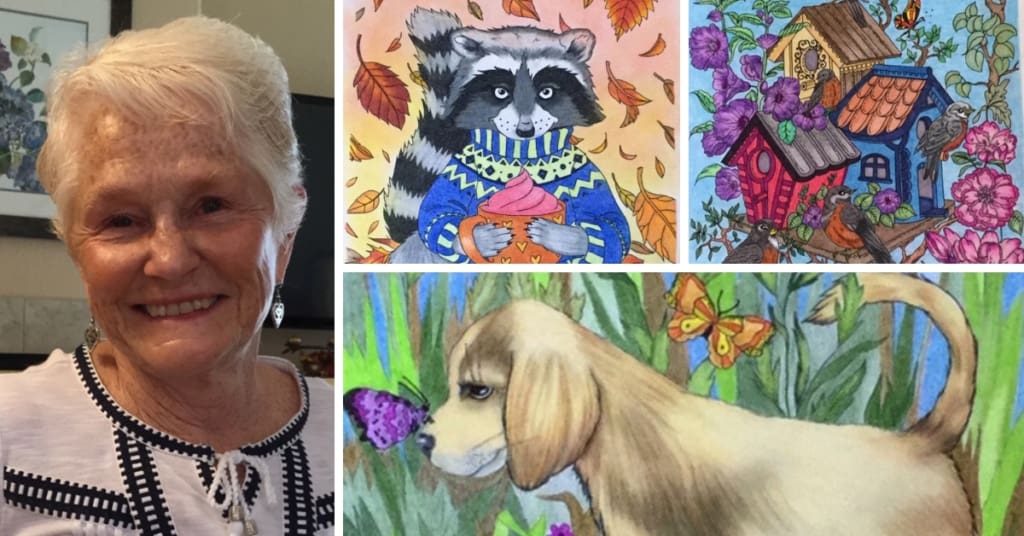 Dear colorists, today's Artist Spotlight features our talented fan Gayle Larson! She is a self-taught colorist who loves learning new things, finds inspiration in other people's works and constantly improves her skills.
Read this interview and support Gayle by leaving your COMMENTS under THIS POST and by SHARING her amazing story on Social Media.
1. When and why did you start coloring?
I loved to color as a child. I would color for hours and even color in the paper napkin designs when I ran out of color books. I also would design and color outfits for my paper dolls. Once I had a family and a job I no longer colored until about 3 years ago at Christmas time. I bought some color books and pencils for presents and after Christmas, I had a set left over and started to color. I haven't stopped since. I am retired and 78 years old. I have lots of time on my hands. Coloring is the best hobby and is a great pleasure for me.
  2. How does coloring help you now?
Coloring helps me from getting bored and releases a creative spirit in me. I become so relaxed and involved when I color and love seeing those pictures come alive. I believe that coloring relaxes you and provides a creative outlet that is specific to each individual. Coloring is a hobby that you can take almost anywhere and work on whenever is convenient. Coloring relieves any stress or anxiety you may have and provides a lot of independent enjoyment. Going from black and white to color on a page is exciting. Coloring is just plain FUN!!
3. What are your favorite designs to color?
I like scenes and animals and pictures with flowers. I especially like a Mandala when I hit a color block. I use pictures online to draw inspiration for colors to use. The color wheel has been especially helpful in choosing colors. Some pictures are too simple and do not stimulate my imagination. I need a challenge when I color. Animals and scenes provide that challenge. I tend to be a realist as I like to stay with the true colors of a subject.
4. What is your favorite coloring tools?
My favorite tools are colored pencils, then markers. I use glitter gel pens for sparkle once in a while. I sometimes like to mix the mediums on a page.
 5. What is your perfect coloring atmosphere?
Since there is only 2 of us at home and because I am not much of a TV watcher, I prefer coloring alone. Chuck watches TV and I color in my favorite chair. That way we keep each other company.  I color in the afternoon when it is bright. I have glaucoma and my eyes do not do well after dark. I have all my supplies next to my chair in our TV room and a nice little lap desk to work on. It is perfect for me. When Chuck is out I turn on music while I am coloring.
6. What inspires you?
I love looking at other colorists creations and how they color them for inspiration. I also get inspired by watching artists videos on how they work with different techniques. Not being a planner, I dive in and start with something easy like green leaves. As I color I think about what colors I want to use. Sometimes I use the color wheel and work with complementary colors or all shades of one color. The internet offers color combinations when I really get stuck.
7. What would be your advice to beginner colorists?
1. Keep it simple at first. Choose easy pictures until you get the feel of the tool you are using. 2. If you can afford it, buy quality tools. 3. Watch videos by other colorists to learn new techniques.
8. Why do you think more people should try coloring?
Coloring will add relaxation, enjoyment, and creativity to your life. If you join some of the coloring clubs you will get to know new friends that love to color from all over the world. Sharing your pictures with these folks and reading their responses to your finished art makes you feel good about yourself and builds self-esteem. My experience has been so joyful. I joined several clubs and have gotten to know so many new people. I also have had the experience of sending some of the more unfortunate folks coloring books and pencils so they too can color and share. I have won a couple of contests in the past 2 years. It amazes me how much I have learned from others and how much better I have become as a colorist and I am 78 years old. Yes, you can teach an old dog new tricks. I never had art lessons so everything I do is self-taught. I am constantly learning new techniques from YouTube videos and other colorists. Some of my finished pictures I have given away as presents to my family. It is so satisfying to give and provide pleasure for others with something you have created. I love to color just for the pleasure it provides.
9. How did you learn about Favoreads coloring club?
I heard of Favoreads on Facebook from other colorists.
10. Why do you like coloring pages from Favoreads?
I loved the website and all of the themes you offer to color. I enjoyed reading about other colorists as well. I love that you ask which pictures you like the most and that you offer freebies for colorists. I like the challenge in the pictures. They are full of details which intrigue me. I also love that you have different levels of grayscale. I am still learning and the easy lighter ones are great for moving me to the next level. I love the quality of your pictures and the variety of themes. The price is right too.
Stunning Art by Gayle Larson!
Gayle's artworks are fantastic. Check them out and get inspired by their beauty. We love Gayle's attention to details and her smart choice of colors.
Share Your Story and Artworks
Would you like to get featured in Artist Spotlight? Fill in this short SURVEY and describe your coloring experience. The more detailed your answers are, the higher are your chances of being featured!