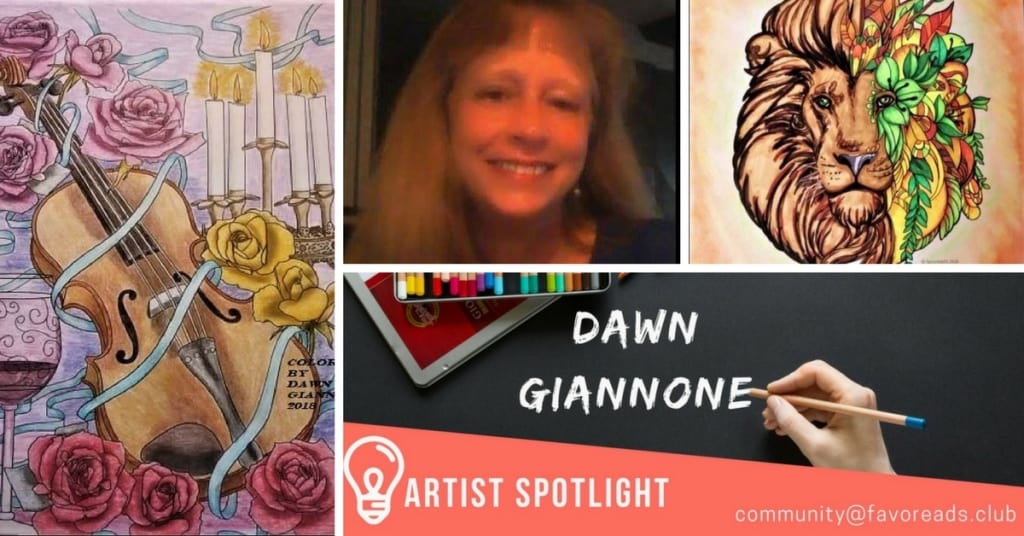 Dear colorists, today's Artist Spotlight features one of our talented fans Dawn Giannone! We absolutely love her artworks and her attitude towards coloring. Dawn said that it takes her to a different place, away from the routine. Surely we can all relate to that and agree that coloring does brighten up our lives!
Read this interview and support Dawn by leaving your COMMENTS under this post and by SHARING her amazing story on Social Media. Plus if you are into grayscale coloring, Dawn has a nice tip for you. Check it out below!
1. When and why did you start coloring?
I have always been artistic, and always doodling, drawing, etc. But I was so happy when I found out about the adult coloring books!
 2. How does coloring help you?
It helps take me to another place, away from the stress and reality of everyday life. It is a great outlet to create something beautiful.
3. What designs do you like to color?
I love grayscale and mandalas, zentangles, animals, etc. I love to color just about anything. But I have to have a feeling for it, to color it.
4. What inspires you and how do you select colors for your next artwork?
What inspires me… It depends on my mood, and what the picture is. If it is grayscale, I have to be able to put in colors that pop or make it bright. Sometimes I want to do animals, and sometimes people, or designs. If a picture does not inspire me, I pass it over. The colors I choose depend on how I see the picture. Sometimes I choose a few colors that complement each other, sometimes I choose every color I can get into the picture. I usually search the internet to see if others have colored the same picture and see what they chose.
5. What is your perfect coloring atmosphere?
I usually color alone, only because no one is really around to do it with me. I actually prefer to do it alone, because I can get totally involved in the picture. I know a lot of people play music, and I used to have music playing, but I have found my perfect atmosphere is total quiet. I love it home alone, no tv, no music, so I can get totally absorbed in my picture.
6.  Is coloring grayscale pages different from coloring regular designs? Give your tips on grayscale coloring.
Yes, they are totally different. With grayscale, you already have your highlights and dark shadows. So basically you only need one color to do a spot, and your shading is already there. Or you can take it to the next level and use white where the lightest spots are and use a medium color, and a darker shade of the same color, and use them to make the picture have more depth and seem richer in colors.
7. Why do you think people should try coloring? What will it add to their lives?
It is a great stress reliever! When things get hectic, and if you are not artistic, this is a way to make things bright, take you away, and make something beautiful!
8. What are your go-to coloring tools?
I have about every coloring tool there is, I think! But I am drawn to colored pencils and glitter gel pens.
9. What would be your advice to beginner colorists?
Take your time, and picture in your head, how you want to color it. I sometimes choose a set amount of colors to use, depending on the picture. And remember there are no mistakes, just different directions. Do not throw your coloring away, continue, and save for reference later.
10. How did you learn about Favoreads coloring club?
I was actually searching for downloadable pdf coloring pages and ran across your website.
11. Why do you like coloring pages from Favoreads?
A lot of pictures to color! And very good prices. I like the variety of pictures you have, and the prices are great.
Brilliant Artworks by Dawn Giannone!
Here are some of Dawn's gorgeous artworks! Let's appreciate her talent and support her. LIKE & SHARE her artworks on FACEBOOK or give her
 on OUR WEBSITE!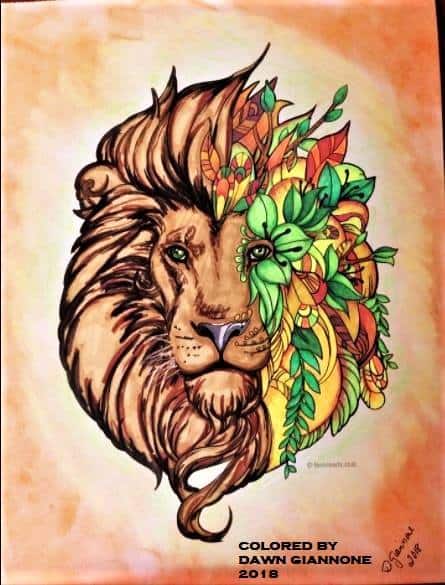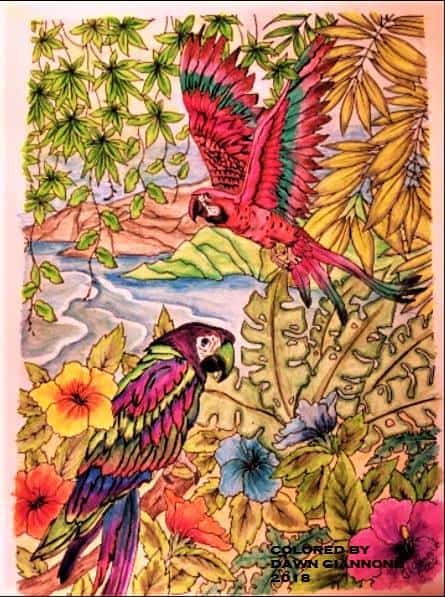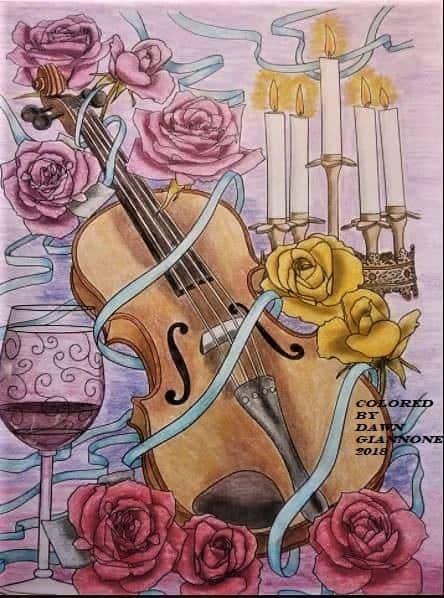 Share Your Coloring Experience
Would you like to get featured in Artist Spotlight? Fill in this short SURVEY and describe your coloring experience. The more detailed your answers are, the higher are your chances of being featured!