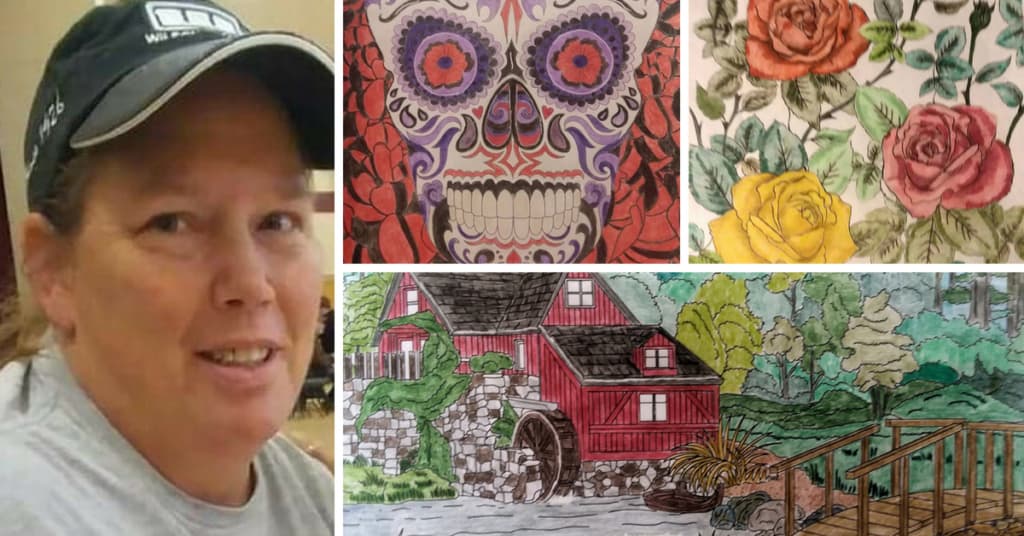 Dear colorists, today's Artist Spotlight features our valued fan Chris Preslar! Despite being limited in her activities Chris really likes coloring and dedicates a lot of time to it because it helps her relax and focus on creativity. She loves to color alone with the music on so everything else is blocked out for a while. Chris is very talented and we are happy to share her story today!
Read this interview and support Chris by leaving your COMMENTS under THIS POST and by SHARING her amazing story on Social Media.
1. When and why did you start coloring?
I started coloring around August of 2017. I had been restricted as to what I could do so I picked up an adult color by number book just to see if I would enjoy it. I colored a few pages and I was addicted. Now I have given up the color by number and color the pictures from Favoreads.
 2. How does coloring help you now?
I am waiting on my disability and am very limited as to what I can do so I have a lot of free time on my hands. I have sleep disorders which prevent me from sleeping so when I am unable to sleep I color which relaxes me and keeps my mind off not being able to sleep. It also brings me a lot of pleasure to have something to do that I enjoy as much as I enjoy coloring.
3. What are your favorite designs to color?
I prefer to color animals and still life. I feel the animal and still life designs allow you endless opportunities and I am able to create more color.
4. What inspires you and how do you select colors for your next artwork?
I am inspired when I look at the notebook of pictures I have colored and see the improvement from the first picture I colored to the progress in my techniques. I pick my colors based on the picture and a lot of times it is based on my mood when I start the picture.
 5. What is your perfect coloring atmosphere?
I generally prefer to color alone because I can put my headphones on and block everything out except for myself, the picture, and concentrate on what I am doing. I usually do better when I am able to listen to my music and block everything else out. My perfect coloring atmosphere is myself with headphones on while everyone else is sleeping.
6. Why do you think people should try coloring? What will it add to their lives?
I think they should try coloring as it will relax them, calm them, and they will get much pleasure out of it.
7. What would be your advice to beginner colorists?
Learn the technique of 3 color blending. Practice highlighting with gum eraser. Utilize paint brushes to prevent pigment transference on your images.
8. How did you learn about Favoreads coloring club?
On the Internet. I really liked the images that were offered and the fact that you allowed us the opportunity to share our images.
9. Why do you like coloring pages from Favoreads?
They allow us the opportunity to explore the techniques of blending, highlighting, and shadowing. The images you offered are much better and you allow us so much more opportunity to interact with you on the website.
Gorgeous Artworks by Chris Preslar!
Chris is a very talented colorist and we are honored to have her in our community. It's the best reward to know that our coloring pages make boost creativity in people. Let's support Chris and her art. LIKE & SHARE her colorings on FACEBOOK or give her
 on OUR WEBSITE!
it is the first picture I learned how to highlight on so it is special to me. I am really proud of it.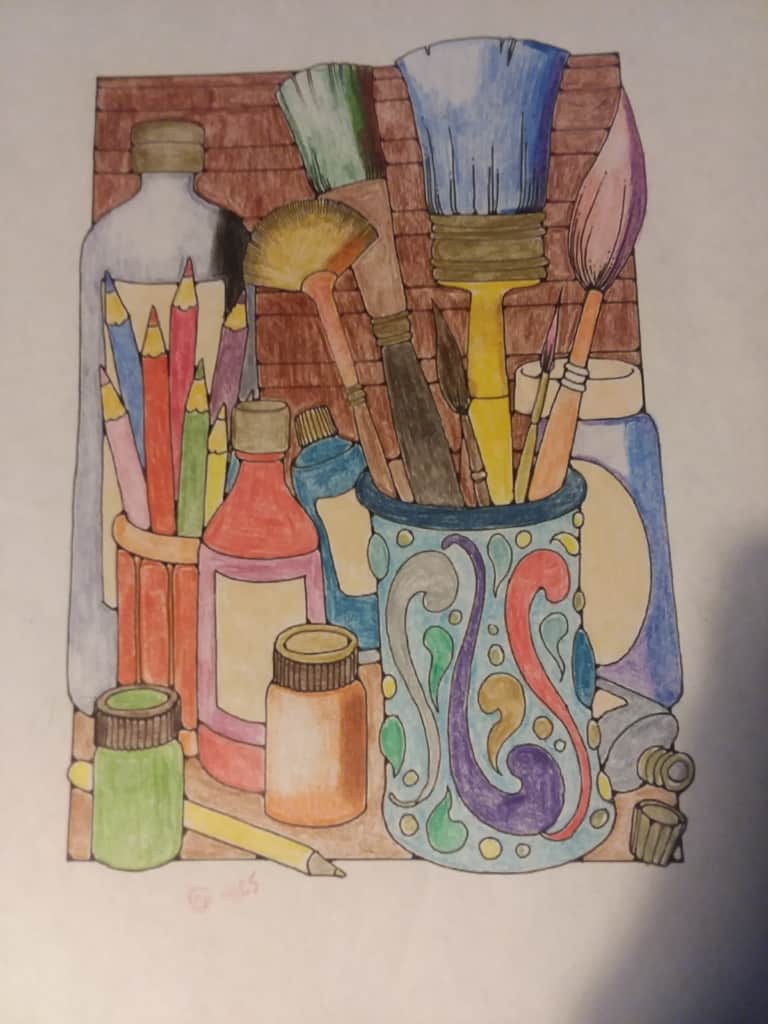 Share Your Story and Artworks
Would you like to get featured in Artist Spotlight? Fill in this short SURVEY and describe your coloring experience. The more detailed your answers are, the higher are your chances of being featured!