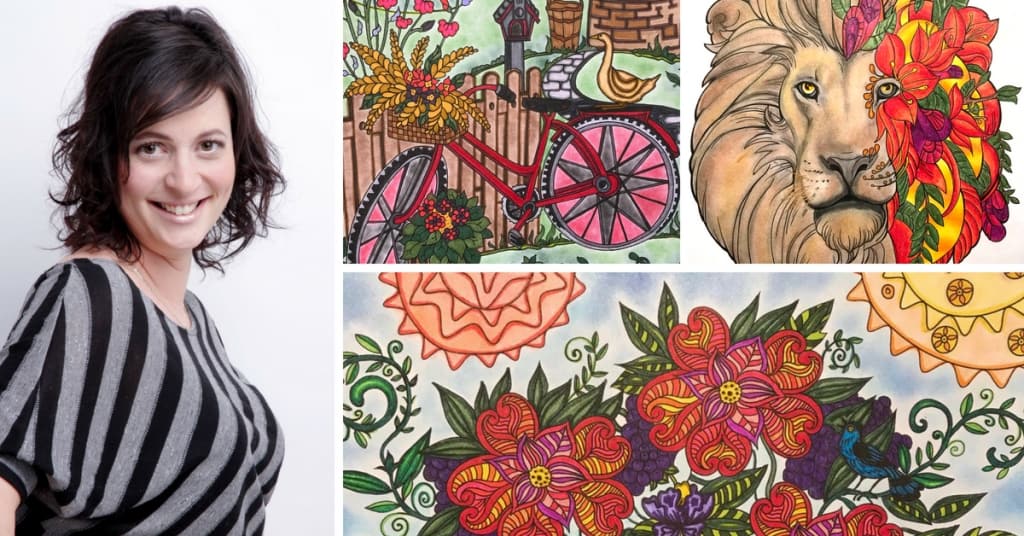 Dear colorists, today's Artist Spotlight features our valued fan Caroline Lessard! She is very talented. Her artworks are always so vibrant and powerful. We truly admire her professionalism even though Caroline said she doesn't have an artistic background. However, she encourages other people to always try new things, experiment and keep learning. We agree that those are the main secrets to becoming a great colorist.
Read this interview and support Caroline by leaving your COMMENTS under THIS POST and by SHARING her amazing story on Social Media.
1. When and why did you start coloring?
I started coloring last year, fall 2017 because I wanted to return to serenity and forget everything!
 2. How does coloring help you now?
I started coloring when I had a surgery. I couldn't move a lot and the time went so slowly. I like coloring because it helps the time move faster. I don't have any kind of an artistic background. I've just really liked art since I was a teenager. I learned a lot by myself just watching different techniques and tutorial on Youtube and with Beah Colors (French artist I think). I know her on Facebook.
3. What are your favorite designs to color?
At first, I colored only mandalas,  but after some time I tried animals, landscapes, and even some portraits. I love them too!
4. What inspires you and how do you select colors for your next artwork?
I am always inspired by the things I see in real life. My feelings inspire me too. The choice of colors depends on different things: my state of mind, the weather outside. I also like to try new colors I don't use normally to change and experiment a little bit! To step out of my comfort zone you know.
5. What is your perfect coloring atmosphere?
I prefer to color alone, but I like to show my artworks to my boyfriend and a couple of friends. I color alone because it's the only activity I practice for myself. Oh, this and yoga too!!! It's a real pleasure. So my perfect coloring atmosphere is something like this: it would be in the evening when everything is quiet in the house. I am alone at my desk and I can look outside through my big window. Or it could also be in the morning when the sun is shining and I am taking my coffee outside.
6. Why do you think people should try coloring? What will it add to their lives?
I think more people should start coloring. Mentally it's a good thing! I do believe in Art Therapy also. Plus coloring is very good for boosting your self-esteem.
7. What are your go-to coloring tools?
Prismacolor Premier Wood pencils, dry pastel, and markers.
8. What would be your advice to beginner colorists?
Don't be afraid to try many different things and experiment with сolors and pencils. Just relax and release your creativity.
9. How did you learn about Favoreads coloring club?
I've found Favoreads on Facebook.
10. Why do you like coloring pages from Favoreads?
Your designs are amazing. I love the variety of drawings. Some are complex and take a lot of time, while others are simpler. Plus you have different themes and styles to choose from.
Brilliant Artworks by Caroline Lessard!
Check out these stunning designs colored by Caroline. Let's appreciate her talent and support her. LIKE & SHARE her colorings on FACEBOOK or give her
 on OUR WEBSITE!
Share Your Story and Artworks
Would you like to get featured in Artist Spotlight? Fill in this short SURVEY and describe your coloring experience. The more detailed your answers are, the higher are your chances of being featured!